---
If you would like to help by donating, please text 'Doggie' to 44321
Chita-ADOPTED
Princess-ADOPTED
Remember our sweet girl Princess? Well, we got great news yesterday that she was adopted at the shelter! We wish her the best and will surely miss her smiles and requests for belly rubs at the store with us.Happy life sweetheart, best wishes to you and your new family. The pictures are of her freedom ride and interacting with her new male fur sibling.
Audrey-ADOPTED
****UPDATE: This gorgeous pup was adopted today after she went back to the shelter this afternoon. Must have been the positive side effects of her spa day at TRN!
🙂 Good luck and happy life sweet girl!****
Thor-ADOPTED
Could you use some great news for your Wednesday night?Well, our TRN volutneer who is fostering Thor has decided to make it official! That beautiful boy is off the market, she will be finalizing his adoption this weekend.Congratulations to mom and Thor, we are beyond ecstatic for you both! Can't think of a better outcome for this sweet gentle soul!#HappyTears #311
Bloomie (Blue) ADOPTED-
Adoption #310!…So one of our amazing volunteers fell in love with this boy during his time at TRN. So much so that she realized the idea that someone else might snatch him up did not work for her. So…SHE did! His adoption is all done and it is oficially official!Bloomie, now Blue, is settled into his new home and has a great mom and a fur sister that you'd think he grew up with. Such a happily ever after for him!Congratulations to all three of you!
DOOG-ADOPTED
Adoption #3!!! Finally, for the perfect trifecta, drum roll, please…DOOG has left the building! He found his new family today and while he is a nervous guy, his new parents are up for the challenge and his new brother and sister have given their approval. They know due to his nervousness, he is a possible flight risk, and they are well prepared to keep him safe as he learns he is secure and well-loved. We couldn't be happier that he has found a new furry friend to play with and learn how to just be a silly confident boy. We sent him home with his two favorite toys, and as he left, he grabbed one last stolen toy on his way out. We are surely going to miss his goofy antics, but we are so thrilled to have been a part of his next chapter. As you can see in the pics, getting everyone to look in the same general direction at the same time was no small feat!
They promise to send pics and video as he settles in, and we will most certainly share the updates as we receive them. It's entirely possible that as he left today, our volunteers and staff shed some happy tears. It's been an emotional day for a lot of reasons, but we couldn't be more happy for these pups and their new families. Seems a fitting tribute for 9/11, a reminder to us all that life does indeed go on and there is still much joy to be found. We honor the past, while we celebrate the adventures that lie ahead.
ZOEY-ADOPTED
***Edited to add update: Please check out our update on the beautiful Zoey that was posted today. We will double up our efforts and we're counting on all of you to help us by sharing her posts when she returns to TRN this week! Onwards and upwards, no looking back!***Adoption #2! Beautiful Ms. Zoey has found her forever family! They spent some quality time with a few of our deserving pups today, but we're pretty sure in the end it was Zoey's smile that won their hearts. So, so happy for this sweet girl, she has waited a while for her happily ever after and she picked a great family to be her forever. We are pretty sure she is going to be spoiled, and she has most certainly earned it!Best wishes to you all as you begin your new adventure together!
TANK-ADOPTED
First adoption this afternoon is the glorious Tank! His mom is new to Tucson and is so happy to have this big strong boy in her life. She said she feels like she is now part of a family here and we told her that she is, she's officially a member of the TRN family! We are so happy for them and one of our most wonderful-est (yes, it IS a word) volunteers helped them to get home and settled today. She and her daughter Lexi will be enjoying life with our favorite big lug, Tank! Congratulations to you all!Happy trails to you; we can't wait for updates as you begin your new life together!
Diva-ADOPTED
Diva is off on her grand adventure!She was adopted today and was so anxious to jump in the car with her new mom and dad! We tried to get pictures, but she couldn't sit still in the store. We're pretty sure she sensed this was different than her usual walks while at TRN. Congratulations to all three of you! We hope you have lots of fun together!For those keeping track at home, this makes #303!
Bloomy-ADOPTED
Tru-ADOPTED
Ralphy-ADOPTED
Caratini-ADOPTED
CARATINI HAS LEFT THE BUILDING!
He was adopted by a lovely couple who has previously adopted a little female chi from PACC. Their meet and greet went well, he will have a friendly little gal to teach him how to be a dog and that humans are great sources of yummy treats!This is #302! Happy life little man!
JR-ADOPTED
Well look who's smiling now
Isn't this photo a contrast from the one I posted earlier of JR? That's because he just got adopted and we are thrilled for him. This sweet boy deserves all the love in the world and now he's going to get it. JR is our 301st adoption.
Kenzo-ADOPTED #300
Well the Hollywood script writers couldn't have come up with this story line. It's just so perfect. We are all convinced that this is John at work because he would have just loved this. Guess who worked his magic on his foster Mom and came in this evening to be adopted? The most deserving old warrior of them all. Yes Kenzo, now Kevin is our 300th adoption. We've had the champagne chilled and the banners stored away. We had the bakery ready with the special candles so we were all set to celebrate when the big 300 was reached. This one's for you John
Iris & Icarus-ADOPTED
What a very special day. Do you remember the delightful lady who adopted Icarus? Her name is Stacey and she just adores the senior dogs. She particularly wants to help the dogs that have extra health problems like dear old Guero. Guero was one of the last remaining dogs at the sanctuary and a really sweet boy. Stacey set about building an extra 'house' for her dogs, complete with their own AC system! It's pretty much completed now so she came in today to adopt Guero along with our other remaining sanctuary dog Iris. Here is Stacey with her Mom and Guero and Iris, getting ready to go to their perfect furever home. For those of you who are keeping track, that's adoptions number 298 and 299!! So the next one's the big 3-0-0!There are several people who have helped make this wonderful double adoption happen. Thank you to everyone involved with caring for the dogs while they were at the sanctuary, especially Holly for her countless hours of transport to and from Benson to the TRN store and Stesha & Jesse for caring for the dogs while they were in Benson. Stacey had invested a lot in the special accommodations for the dogs so several of our volunteers got together to cover the adoption costs and some medical costs. (yes we do have the best volunteers in the world.
) Thank you all so much. One particular person deserves a special mention and it's another Stacey. This Stacey is our very own TRN Foster Coordinator, an unsung hero who works behind the scenes to coordinate these amazing connections. As Stacey says 'It takes a village to get these dogs adopted.' In this particular instance it really did.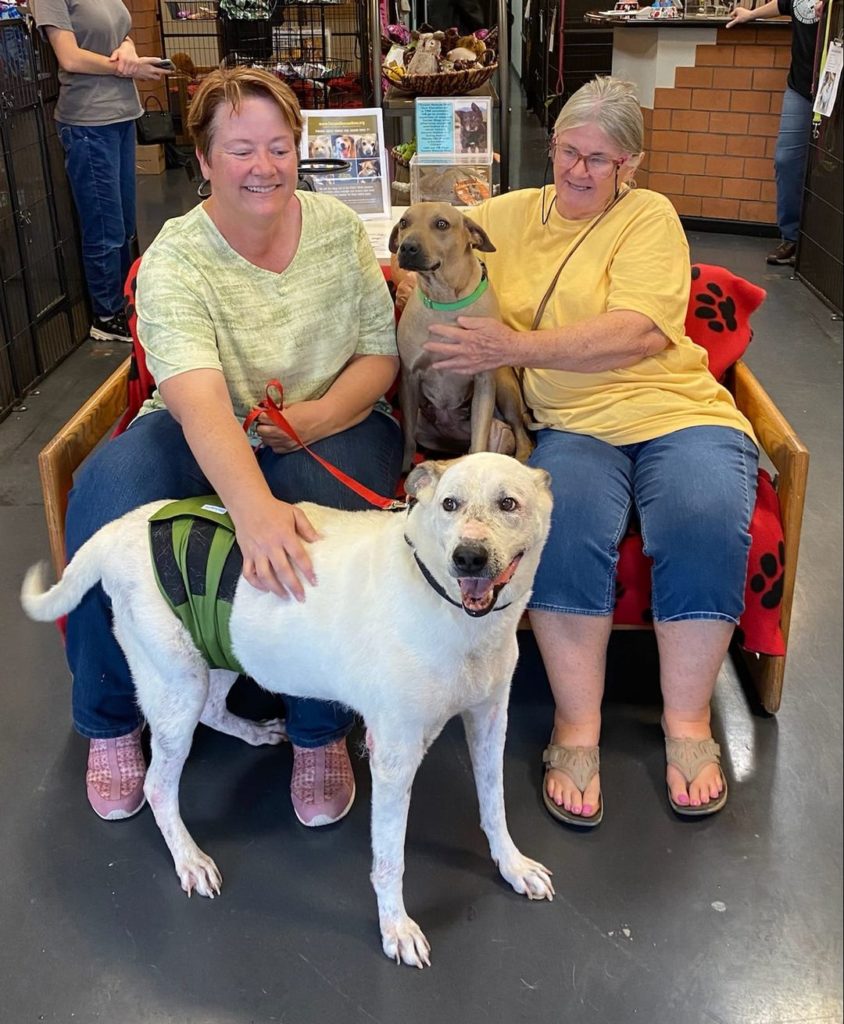 Biggie-ADOPTED
Woo-hoo! Look what happened yesterday. Here's Biggie with his new furever family. Don't they look great together? We are so thrilled for this gorgeous dog. I bet he's going to have all kinds of fun and lots of love too. Have a wonderful life Biggie
Biggie is our 297th adoption. The big 300 is getting ever closer!
Shay-ADOPTED
Remember how I said don't dawdle? Well it was super quick! Shay got adopted
Here she is with her new Mom and Dad already collecting on all the cuddles. You can see she's saying, these are my humans now, you can't have them. LOL. Congratulations Shay. This is our 296th adoption. Who will be the magical 300?
Mattie-ADOPTED
We knew it wouldn't take long didn't we? Here's Mattie with her new family, about to head off to her furever home. All the pretty ladies together
Have a wonderful life sweet Mattie.With her adoption we now stand at 295, it's getting exciting as we close in on that big 300.
Deputy Dawg-ADOPTED
We got some super exciting news this morning. Deputy Dawg got adopted yesterday by a wonderful, loving family. Although it wasn't a TRN adoption, I can't think of a better way to start a Sunday than with news like this.
Charlie-ADOPTED
In case you haven't guessed, it's sweet, 15 year old Charlie who is travelling in style. He's flying in a private plane to his new home
He is going to be pampered and nurtured like you wouldn't believe. His new Mom bought a special cooling pad for him to lie on during the flight to keep his belly cool. I think there is some special TRN magic happening here. Fasten your seatbelt Charlie and have a good flight.
Starla-ADOPTED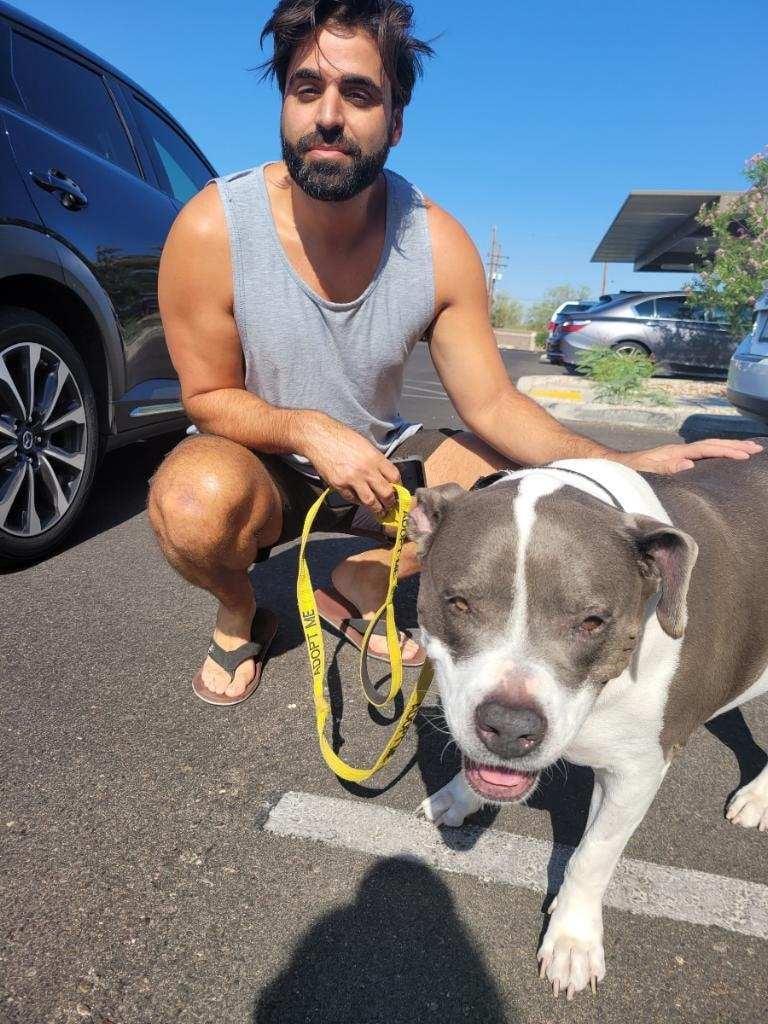 Java-ADOPTED
Well how about that? Gorgeous Java has a wonderful furever home, a new Mom and a new brother called Lucky. I'd say he's done pretty well, wouldn't you? Java is our 294th adoption. It's exciting, we're inching nearer to our big 300 milestone.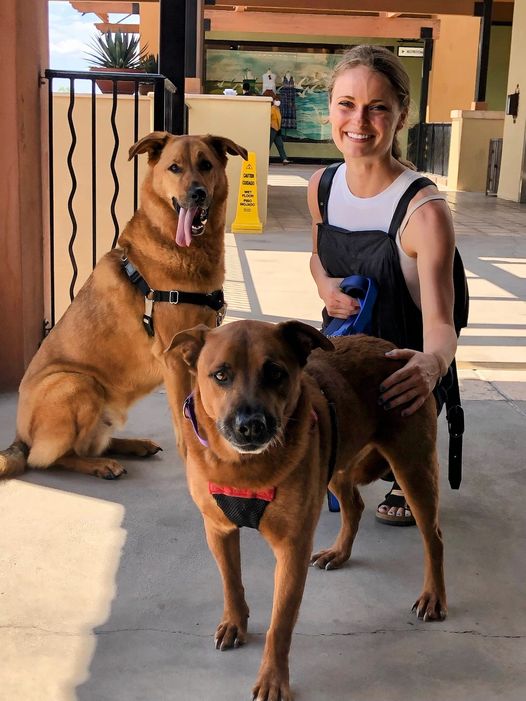 Chubbs-ADOPTED
Here's a better photo of Chubbs with his Dad, don't they look great together? We're delighted for them both. We just love it when foster dogs work their magic and become adopted dogs
Cuco-
Cuco's first adoption didn't work out but we have a good feeling about this one
Why? Well look, they have the same beautiful, snowy white curls
They are a perfect match. Good luck sweet little Cuco, we hope you will have a full and happy life.
Arwen-ADOPTED
Our beautiful Arwen is heading home
Here she is with her new family, all ready to go. We're so happy for this gorgeous girl to start her new life. Be happy Arwen. She is our 289th adoption.
Cleo-ADOPTED
Do you feel as though you are seeing double? Here's Cleo with her new sister, Crash. Yes, that's right, Cleo got adopted by this great family and I suspect she's going to have all kinds of fun. We're so thrilled that Cleo is our 288th adoption.
Bella-ADOPTED
Bella was adopted yesterday at PACC
Connie & Trixie- ADOPTED
UPDATE: The consensus is in and it's 2 adoptions, of course!
How completely and utterly adorable is this picture? Here are Connie and Trixie with their new Mom, heading off to their furever home. We are so happy for these two sweet little ladies
So is this our 286th and 287th adoption or does it just count as one?
Luke-ADOPTED
One of our 'Hidden Gems,' Luke had a special appointment today and I would say it went rather well. Thanks to our volunteer Sandy for telling her friend about Luke, it's a great match and sweet Luke has a new Dad and a furever home
Have a great life little guy. That's our 285th adoption.
Venus-ADOPTION
Doesn't Venus look 'Pretty in Pink?' Well she's certainly 'in the pink' because she's going home! Here she is with her new Mom and Dad and don't they all just look great together? Venus is our 284th adoption, that's right, the big 300 is getting ever closer!
Icarus-ADOPTION
Wow the outpouring of love and good wishes for our boy Icarus has me using even more Kleenex this morning. It's so beautiful to see this sweet dog has won so many hearts
In celebration of Icarus I am adding a donate button to this post. We have been focusing so hard on our foster dogs and transporting dogs etc that our piggy bank is looking a little hungry. Please donate if you can. Every dollar helps us to keep on keeping on and getting other beautiful souls like Icarus into their furever homes. Thank you.
Iris-ADOPTED
I think this is a perfect love match
Both Iris and her new Mom look so blissfully happy don't they? It's just so wonderful to see these gentle, loving dogs finally getting to go home. Our 282nd adoption – yippee!
Cuco-ADOPTED
Doesn't Cuco look proud? That's because he's going home with his new Dad. I think these two are going to have a great time together
Enjoy your furever home sweet boy. This is our 281st adoption.
Maya-ADOPTED
Our store might be closed but we did have one very important appointment this morning (thank you Jeri and Sandy). Look at these four huge smiles
and who's smiling biggest of all? Well Maya of course because she knows she's going to her furever home. We're thrilled, what better way to celebrate a holiday weekend than with our 280th adoption?
Gabriel-ADOPTED
Well Happy Friday
These three ladies have really hit the jackpot by adopting Gabriel. Their days will be filled with doggie hugs, doggie kisses and lots and lots of love. Something tells me that Gabriel is going to have a pretty good time too. Congratulations big guy. Gabriel is TRN's 279th adoption.
Cocoa-ADOPTED
Jack wasn't the only one to find a new family today, sweet little Cocoa did too. A new sister and a furry sibling too! Don't they all look so happy? Good job little Cocoa we hope you have fun in your furever home. And that's adoption number 276! Woo-hoo, that's a lot of happy dogs.
Jack-ADOPTED
We thought Jack's new family adoption picture was pretty darn cute but when his new brother gave him a big welcome hug we had to share that photo too. Lovely Jack got adopted today and has become part of this beautiful family. What a great match
Have fun Jack. That's our 275th adoption and we're thrilled to see this sweet boy find his new family.
Canela-ADOPTED
Well look who got adopted this weekend
That's right, beautiful Canela found her furever home at last. Canela was one of the dogs that came in from Mexico recently. We are so happy to see her settled and happy. Have a wonderful life sweet girl. For those of you keeping track, thats our 274th adoption.
Puppi-ADOPTED
We had a suspicion that it wouldn't take long and sure enough…here's Puppi going to her furever home. With looks to melt anyones heart she was destined to get adopted quickly. What a lucky human to get this sweet girl
And adoption #272 for TRN.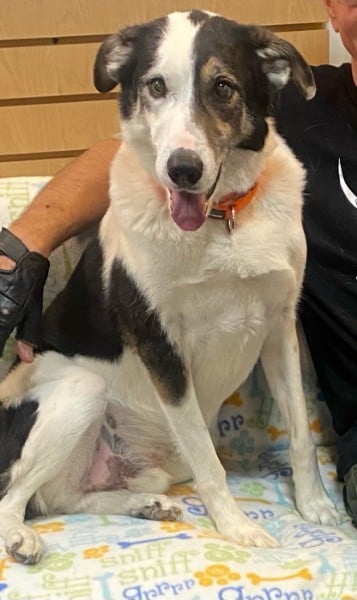 Chago-ADOPTED
We got off to a flying start with our Mexican dogs today. Here's Chago with his new Mom. And if you think you recognize her, you're not wrong, she adopted Murray from us last year.
That's our 271st adoption too. Have a wonderful life Chago, we know you will.
Molly-ADOPTED
Well, well, well how about that? Beautiful Molly got adopted today too. This lovely couple have got themselves one gorgeous dog and we know they are all going to be very happy together. We've got number 270 on adoptions too. What a good day
Connie & Trixie- ADOPTED
What a happy scene. Here are Connie and Trixie with their new Mom
Thank you to all the people who enquired about these two lovely senior dogs, as you can see, they are all set and ready to go to their furever home. That's adoptions 268 & 269 for TRN.
Gibson-Adopt
We had a very special Works Supervisor at the ground clearing event yesterday. Gibson, our first Sanctuary resident was there offering encouragement and collecting pets from all the volunteers. Well guess what happened?Gibson got adopted!!! Yes, that's right. Cheryl and Bruce who were working hard under Gibson's watchful eye just fell in love with him. They turned to John and said ' we love this guy and we want to adopt him.' Just when we thought the day couldn't get any better!Great job Gibson, you worked your doggie magic and we just know you are going to have a wonderful time at your new home. That is adoption number 267 for TRN
Rocco-ADOPTED
There are times when this work can be incredibly sad, when we bring a beautiful dog to the store day after day and no one comes to adopt it and we watch the hope slowly fade from their eyes. And then there are days like yesterday when something happens that make it all so worthwhile.Rocco was surrendered to the shelter for euthanasia, there wasn't anything wrong with him, he was just 15 years old. So the shelter decided not to euthanise him and we started bringing him to the store. A wonderful mother and daughter had just lost their two senior dogs and loved seniors so they adopted Rocco. Last week I did a post about Macura (Now called Lucky) she is a gorgeous dog that we had adopted out to an elderly gentleman about 18 months ago. It was a beautiful match and Macura/Lucky stayed by her owners side every hour of the day. Sadly her owner passed away and his family asked us if we could find a new home for her.You can see where this story is heading right? Rocco's new Mom's had said that they would like to get a friend for Rocco if the right dog came along, so we gave them a call. They came to the TRN store yesterday, Rocco and Macura walked up to each other, kissed noses and that was it. They are inseparable! Rocco and Macura had made the decision, they will be together for the rest of their days
That's our 266th adoption.
Violet-ADOPTED
Sammi-ADOPTED
Diesel-ADOPTED
Vesper-ADOPTED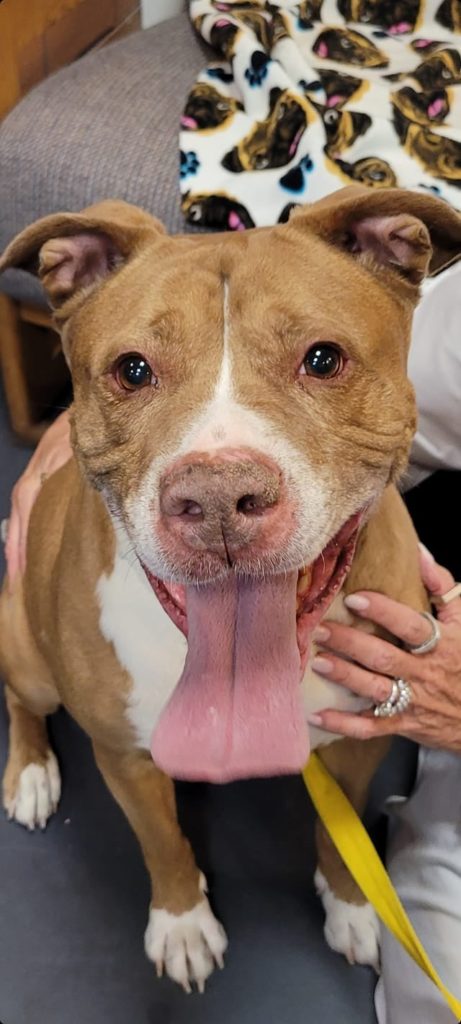 Harley-ADOPTED
Sweet Potatoe-ADOPTED
Peluche-ADOPTED
Starla-ADOPTED
Guero-ADOPTED
Rosabella-ADOPTED
King-ADOPTED
Bones-ADOPTED
Briar-ADOPTION
Briar selected her perfect human this weekend. Just look at her, she knows this is her perfect match. Briar was a special medical needs adoption and thanks to Alvin who fell in love with Briar for the dog she is and looked past her medical issues, we can't thank him enough for giving her the life she deserves. Have a wonderful life Briar
That is TRN's 265th adoption.
Felix-ADOPTED
Felix was another of those dogs that didn't even stay long enough to get posted on FB. Here he is with his new Mom looking so happy to be going home. Such a lucky boy. He's our 264th adoption.
Rocco-ADOPTED
Good things come in threes, isn't that what they say? Our third adoption today is Rocco, here he is heading home with his new Mom
And we're looking at adoption number 263!
Samson-Adoted
You can tell by the look on Samson's face that he knows he's heading home. Good luck sweet man, we hope you have a long and happy retirement with these two lovely ladies
And that's our 262nd adoption.
Jayla-Adopted
We never got to introduce little Jayla. He climbed onto this ladies lap and a short while after this picture was taken it was all over. She couldn't resist him and he became our 261st adoption
Chaia-Adopted
Remember how I said Chaia was focusing really hard on wishing up her furever family? Well, it worked! Here she is with her new family. We are so thrilled for this sweet girl. Chaia is our 260th adoption
Hershey-ADOPTED
Hershey worked his magic and his foster Mom fell in love
Yes that's right, we have another wonderful failed foster. Well done Hershey, you've got the best furever home you could ever wish for. We're so happy for you. That makes 259 adoptions for TRN.
Flapjack-ADOPTED
One adoption wasn't enough for our super sunny Saturday so here's the second one. Flapjack is already giving his new Mom all the kisses to show how much he appreciates her taking him into her heart. I think these two will be very happy together. Flapjack is also getting a new sister called Chance. Chance was adopted from TRN a year ago
That's our 257th adoption.
Benson-ADOPTED
What a lovely day we had at the TRN store today. This was Benson's first day at the store and he got adopted! Here he is sitting with his foster Dad and his new Dad and he's really smiling. Good job Benson, have a great life with your new people. That's our 256th adoption in case you're counting.
Luther-ADOPTED
No surprise here, we knew cute little Luther would get snapped up quickly. Here he is with his new Mom and his new sister heading off to his furever home
making it adoption number 255 for TRN. What a lovely day.
Kleinsten-ADOPTED
Do family portraits get any cuter than this? I don't think so. Gorgeous little Kleinsten is heading home with his new family today and something tells us he's going to get all the love in the world
That's our 254th adoption.
Bob–ADOPTED
Debo-ADOPTED
LINDA-ADOPTED
Maggie-
Leo–ADOPTED
Besie–ADOPTED
LIZZIE-ADOPTED
BROWNIE-ADOPTED
Brownie got adopted! Here he is at home with his new Mom, looking as happy as can be
Yeah Brownie! We are so happy for you. Brownie is our 251st adoption.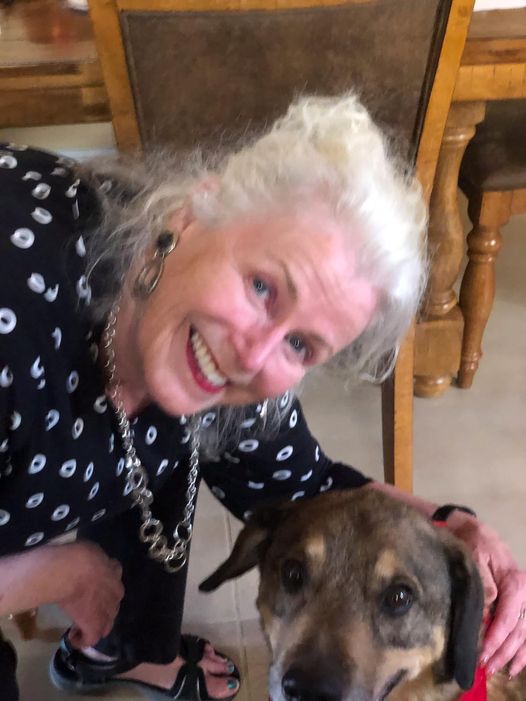 KI-ADOPTED
Oh my goodness, how cute is this picture? Here is KI with her new brother Riley, about to head off to her furever home. Something tells me she and Riley are going to be BFF's
This is our 249th adoption.
Seven-ADOPTED
Failed Again! And we couldn't be happier. We had asked Seven's foster parents if they would be able to bring Seven in to the TRN store today to see if she would get adopted and they said no! Because, well you guessed it, they have decided to adopt her themselves. Well done Seven, you worked your magic
Isn't this just the perfect family picture? And look at that big old kiss Seven is giving her new Mom. That's our 248th adoption – Hurray!
Alfred-ADOPTED
Look who got to go to his furever home yesterday. Here's Alfred cuddling up with his new Mom before he heads home with her. Good job little guy, I think you are going to be living your best life now.
That's our 247th adoption.
Bella-ADOPTED
Midori-ADOPTED
Karma-ADOPTED
Norman-ADOPTED
Blanket-ADOPTED
K9-ADOPTED
Chica- ADOPTED
ADOPTED-
Look at all the beautiful dogs that found their furever homes through TRN this week. Thank you all for helping spread the word about our work and donating so that we can keep on going. Please keep it up and we promise that we will too
JAKE-ADOPTED
Don't you think that Jake is looking pretty smug? It's probably because he knows he's just landed his perfect furever home. Here he is with his new Mom and Dad getting ready to head out on new adventures, hopefully with lots of swimming – lol.This is our 245th adoption. If you would like to help us keep up this important work please text 'Doggie' to 44321 to donate.
JAZZY-ADOPTED
Well, I think it's safe to say that Jazzy knows she's found her soul mate
Isn't this just the happiest photo? Congratulations Jazzy, go and live and love your best life with your new Mom. We are having a great week, this brings our running adoption total to 244.
LEEWOO-ADOPTED
Good things come in threes and we've had three adoptions today! Here's Leewoo with her new Dad
He took one look at Leewoo and fell in love. I think they both got a perfect match. That makes adoption number 243.
CHIO-ADOPTED
Well look at little Chio with his new Mom. Something tells me this little guy is going to get all the love and cuddles that his heart desires. Chio is our 242nd adoption. If you were hoping to adopt one of our 'littles' don't worry, we have two more available. We have Leewoo and Diva. Scroll back through our posts and check them out. If you are interested in meeting them, text John at 206 718 3309
BODO-ADOPTED
Look at sweet little Bodo with his new Mom. It was love at first sight for both of them and don't they look great together? This is our 241st adoption.
Nell-ADOPTED
Well look at our gorgeous Nellie Belly going to her new furever home. Just look at that big smile on her face
Here she is with her new Mom and new sister, we couldn't be happier. That's our 240th adoption and it's a beauty.
Brogan-ADOPTED
Here's an adoption photo with a difference. Clearly the excitement of going to his furever home was a bit too much for Brogan and he had to take a little nap.
This is our 238th adoption.
Chica-ADOPTED
To those of you who guessed 'less than one day' for how long it would take Chica to get adopted – you were right! Here she is cuddling up with her new Mom at the TRN store yesterday afternoon before heading off to her furever home. That is our 237th adoption and the joy never gets old.
Mia-ADOPTED
This might be my favourite photo of the month. Remember little Mia? She was one of our hidden gems. She was found wandering in the desert and her foster spent a long time nursing her back to health. Well here she is now with her new Dad
headed off to her furever home. We are so happy for this sweet girl. This is our 236th adoption. If you would like to contribute to help us find homes for more senior dogs, text 'Doggie' 44321 to donate.
D'Lyla-ADOPTED
I didn't even get chance to post this little sweetie. But this is D'Lyla headed off to her furever home with her new Mom
Congratulations little one, have a wonderful life.If you're keeping count, that's our 235th adoption.
Charlie-ADOPTED
This one really warms my heart. Charlie is such a sweet, gentle boy. His Dad got posted overseas and we needed to find him a home asap. Well here is our Charlie Boy with his new Dad, heading home to be loved and cherished
This is our 234th adoption.
Shiloh-ADOPTED
Look at Shiloh with her new family
What a lovely picture. That's right, we are celebrating our 233rd adoption.
If you would like to help to support our work, text 'Doggie' 44321 to donate.
Daisy-ADOPTED
Well look at Miss Daisy, getting ready to go home with her new Dad
This lovely dog has found her furever home at last, we're thrilled. This is our 232nd adoption.
Leidy-ADOPTED
Look at this perfect picture. Two, happy smiling faces
Here's Leidy with her new Mom and doesn't she look delighted to be going home at last?Leidy is our 231st adoption. If you would like to help keep the adoptions coming, text 'Doggie' 44321 to donate.
Nova Lee- ADOPTED
Tia–ADOPTED
Wil-ADOPTED
Lola-ADOPTED
Jed-ADOPTED
Daisy-ADOPTED
Kona-ADOPTED
Rocky–ADOPTED
Peanut Butter-Adopted
Bucky-ADOPTED
We knew it wouldn't take long didn't we? Here's Bucky with his new sister Lila and his new Mom. Congratulations Bucky, enjoy your furever home.
This is our 229th adoption.
Joey-ADOPTED
You know sometimes we get dogs that come in and then get adopted so quickly we don't even have chance to post them? Well that is exactly what happened with Joey today. Here he is with his new Mom getting all the love and cuddles

Joey is our 228th adoption. If you'd like to help us keep finding homes for senior dogs, text 'Doggie' 44321 to donate.
Hubba Bubba aka Otis-ADOPTED
Doogie-ADOPTED
Lola-ADOPTED
Lola got adopted.
Here she is with her new family and her new brother. He's 15 years old. Before the adoption was finalised they went for a stroll around La Encantada Shopping Centre together and it was as if they had been together their whole lives. A perfect match and our 223rd adoption.
Mufasa-ADOPTED
Now you see me, now you don't! This is Mufasa, he came to the TRN store for the first time today and got adopted. Such a lucky boy
That's our 222nd adoption and we're delighted.
Jed-ADOPTED
Well our weekend is officially made! Here's Jed with his new furever family. He's going to live on a ranch with goats and chickens and horses. We needed to find a very specific home for this gorgeous dog and we think we've nailed it. Have a fantastic life sweet Jed. We're so happy for you but we are certainly going to miss you
That's our 224th adoption.
If you'd like to help keep us going please text 'Doggie' 44321 to donate.
Penny-ADOPTED
These days it's nice to have a story to restore our faith in humanity. We asked for an angel, and here she is. Penny got adopted. Now she will have her surgery and have a loving home in which to recuperate. We are so happy.

That's our 220th adoption.
Tess-ADOPTED
Guess what? More good news – Tess got adopted! This sweet girl has finally found her human and her furever home and she could barely stand still long enough to take a photo she was so excited.
That is adoption number 221. If you'd like to help us keep up the good work, text 'Doggie' 44321 to donate.
Tina-ADOPTED
Smitty-ADOPTED
Cookie- ADOPTED
Lolito-ADOPTED
Jasmine-ADOPTED
But wait a minute, we're not done yet. What about adoption number 219? Yes, that's right, more good news. Sweet little Jasmine got adopted today too. What a fabulous day. Three dogs going to their furever homes to be loved and cherished. If you'd like to help us, please text 'Doggie' 44321 to donate.
Bella & Buttercup-ADOPTED
Our Double Delight are going home! Our adoption numbers 217 and 218 are the delightful duo of Bella and Buttercup. Here they are with their new Mom. ❤️❤️?
Pooh Bear-ADOPTED
Tiger-ADOPTED
Michael Phelps-ADOPTED
BO-ADOPTED
Sparkles-ADOPTED
Zoltan-ADOPTED
Zoltan with a TRN Volunteer…
Chiquis-ADOPTED
This is 12yr old Chiquis and today he was adopted and now is going to his forever home!
Beau-ADOPTED
Beau getting adopted!
Darwin-ADOPTED
Groot-ADOPTED
Fifi- ADOPTED
Ruckus and Cletus- ADOPTED
Here is Ruckus going home with his new brothers and sisters…
Here is Cletus with his new family…
Cowgirl-ADOPTED
Nia- ADOPTED
Esther- ADOPTED
Tika- ADOPTED
Trooper-ADOPTED